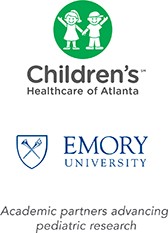 Emory + Children's Food Allergy Treatment Registry
Welcome! If you are interested in finding out more about new treatments for food allergies, you have come to the right place!
Emory University and Children's Healthcare of Atlanta have teamed up to establish a Food Allergy Center, where we will perform clinical trials of experimental treatments and also offer new FDA-approved treatments in the clinic once available. We have developed a brief survey to provide you an opportunity to register yourself and/or a child as a potential participant in this program. If you have multiple children, please enter one at a time and then come back to the site as needed. Please note also that we are very interested in adult food allergy even though we are primarily a pediatric program; we are exploring ways to conduct studies in patients over 18 and hope to be able to offer them in the future.
Please note that registering only indicates your interest but is not a binding commitment. Prior to participating in a study or receiving a treatment in clinic, you will have an opportunity to discuss your participation in detail, and have all of your questions answered. You can always decide not to participate, and it will not affect in any way the care you would otherwise receive.
To continue on to the survey, please click "Next" below.
You have selected an option that triggers this survey to end right now.
To save your responses and end the survey, click the 'End Survey' button below. If you have selected the wrong option by accident and/or wish to return to the survey, click the 'Return and Edit Response' button.